Financial Advisor Prospecting In A Post-COVID World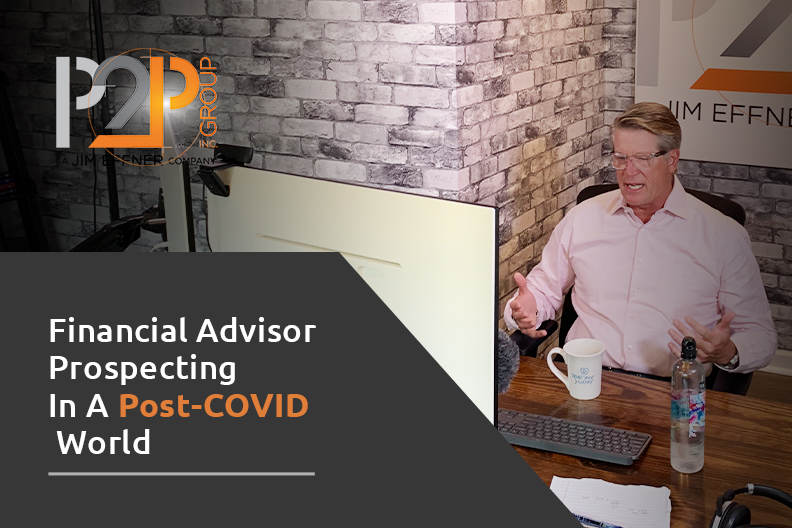 COVID-19 has drastically impacted nearly every profession, and financial services is no exception. However, despite the challenges and uncertainty, many financial advisors are having their most productive year ever.
According to a Nationwide Financial survey of more than 2,000 adults, 24% of respondents engaged a financial advisor for the first time ever back in April. Additionally, 49% of respondents said that COVID-19 made them realize that they, "need help managing their finances and investments to succeed in the future."
This illustrates the current demand for trusted advisors who can help clients create a solid financial plan. With the right prospecting approach, you can be the one to provide it to them. Here are four best practices for financial advisors prospecting in this post-COVID world.
Begin With Mindset
Those who have participated in my Prospecting Mastery Workshop or any of my training programs know that mindset is a big deal. In all of my training programs, we teach using a three-dimensional approach that deals with mindset, sales skills within a proven system, and language. We always begin with mindset because our mind leads and our body follows.
Take a moment to check in with yourself. Are you full of self-defeated thinking that prospects and clients don't want to hear from you? Or, do you believe in your head and heart that people need you more than ever?
According to a recent LIMRA survey, 64% of people who had contact with their advisor felt it eased their concerns and 74% said they were likely to recommend their advisor to others.
The time is now to reach out to your prospects and clients – even if it's just to check in and see how they are doing. Doing so means developing stronger relationships with your current clients. It is through these relationships that you'll be able to open the door to high-quality referrals and help more people achieve financial security.
Get Face To Face With Virtual Meetings
The prospecting system that I used as an advisor and that I still teach to this day is based upon generating quality referrals from your current clients. Your best referrals will come from clients who feel you understand and care about them. In order to establish these essential feelings, face-to-face communication is a must.
While there are advisors who do all their meetings over the phone, I highly recommend using virtual meeting platforms like Zoom and GoToMeeting instead. Virtual meetings allow you to better pick up on non-verbal cues and view financial planning documents together.
If your clients are unfamiliar with virtual meetings, have your staff reach out in advance to teach them how to use it as a value add. Your communication will be so much more effective which makes getting referrals much easier.
Use A Meeting Agenda That Includes Networking On It
Left to their own devices, advisors will often "feel out" a client meeting and then decide at the end whether or not to prospect.
The problem with this approach is that we are all emotional beings. Leaving prospecting up to how you feel at the moment is an easy way to opt out of doing it altogether. Prospecting often goes against advisors' instincts and they'll come up with excuses not to do it, such as:
"These clients already have too much that they are dealing with."
"I don't want this client to feel like I'm taking advantage of the situation."
"I don't want to come across as the pushy life insurance salesperson."
One tool you can use to overcome this issue is to use a client meeting agenda that includes time at the end for prospecting or networking. Present this agenda to your clients at the beginning of the meeting and gain their buy in right from the start. This also then creates a commitment to yourself to do the prospecting.
When you get to the prospecting part of the meeting, let your clients know that you appreciate them. There are so many people out there in need of a financial plan. They certainly have other people in their life that they love or care about, and you are here for them too.
Schedule Phoning Time On Your Calendar
Just like a doctor or surgeon doesn't walk into their office and then work on whatever they feel like for the day, you shouldn't be winging it either.
"Leaving prospecting up to how you feel at the moment is an easy way to opt out of doing it altogether."
You need to work from an "ideal calendar" and one of the things that should be blocked off on it every week is time for phoning. This is time that is used to follow up with referrals and book appointments. Treat this time as if it's an appointment with an A+ client.
Of course, in a work from home environment, you face new challenges and distractions. Make sure you have a closed off space to do your prospecting. Have a strategy to minimize distractions and handle them when they do arise. This may be as simple as sitting down for a conversation with your family about the importance of uninterrupted time during "office hours."
Financial Advisor Prospecting In A Post-COVID World
Even during these turbulent times, there are many advisors who have substantially grown their practice over the past six months. They are talking to more prospects and clients than ever before who are more in need of a financial planning conversation than they've ever been. With the right mindset and the ideas above, you can significantly increase your prospecting results and reduce the financial stress and uncertainty that so many people are facing.
MASTER YOUR PROFESSIONAL SALES SKILLS
With P2P Academy